Gerade eben findet fast unbemerkt im Mehrzweckhaus Bergheim bei Salzburg eine LAN-Party statt. Plätze für Kurzentschlossene sind noch zu genüge frei.
Nach einer vierjährigen Pause meldet sich die "aLAN in the DARK" zurück. Damals ein Fixpunkt in der salzburger Spielergemeinschaft, scheint sie zum 10-jährigen Jubiläum fast vergessen.
Als ich das Mehrzweckhaus in Bergheim gegen Mitternacht betrete ist das Treppenhaus dunkel und gespenstisch ruhig. Wo sich damals die Raucher gegenseitig auf die Füße traten, stehen verlassene Aschenbecher, die sich entgegen meinen Erinnerungen alles andere als überfüllt zeigen. In der Halle selbst bietet sich mir ein erster, eher trauriger Anblick von leeren Tischreihen. Lediglich abgezählte zehn Teilnehmer sitzen vor ihren Monitoren und spielen Quake. In einer Ecke entdecke ich noch vier verlassene Computer, die dazugehörigen Teilnehmer haben sich scheinbar schlafen gelegt.
What we gonna do right here is go back, way back, back into time.
Auf den zweiten Blick gestaltet sich mein Kurzbesuch wie eine Zeitreise zurück in die Ära spärlich gesäter und langsamer Internetzugänge, als LAN-Partys noch das einzige attraktive Angebot für Multiplayer-Orgien waren. Große, schwere Röhrenmonitore dominierten die Tischreihen und es war jedes Mal wieder eine logistische Herausforderung, knappe 100 Teilnehmer in dieser Halle unterzubringen.
Die "aLAN in the DARK" leistete ab 1999 im salzburger Raum Pionierarbeit. Es gab zwar auch damals schon zu genüge groß angelegte Veranstaltungen – so zum Beispiel die "LANINGZONE" mit jenseits der 400 Teilnehmer –, aber sie sprachen eine andere Klientel an. Auf der "aLAN" kannte man sich untereinander. Einer zu groß geratenen Keller-LAN gleichend, war man auf keine Werbung in diversen Portalen im Internet angewiesen, Sponsoren gab es ebenfalls nicht wirklich und Turniere mit Turnierleitung, Turnierbäumen und Sachpreisen suchte man genauso vergebens. Kein Internet, kein Catering, keine Sideacts. So war die "aLAN" immer und wird sie auch weiterhin bleiben. Obwohl bei anderen Veranstaltern das Thema "Back to the Roots" gerade eben als Gegentrend zu den großen Event-LAN-Partys neu entdeckt wird, ist die "aLAN in the DARK" ihrem Weg nie abgewichen. Warum allerdings ausgerechnet dieses Wochenende die Besucher ausblieben, lässt Raum für Spekulationen.
Sie sind gekommen, um zu bleiben.
Die zehn Mitspieler nehmen die leeren Tischreihen jedoch gelassen. Man vergnügt sich bei Evergreens wie StarCraft, Quake, Unreal Tournament und Counter-Strike. Dabei spielen alle gleichzeitig auf einem Server, in kurzen Spiel- und Rauchpausen wird nahezu demokratisch über die nächste Computerschlacht abgestimmt. Fehlt ein Patch, wird er vom Sitznachbar im Netzwerk freigegeben oder via HSDPA aus dem Internet geladen.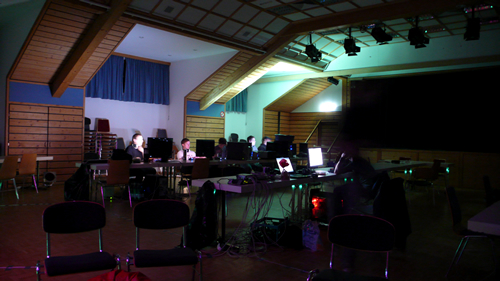 So werden sie sich ihre Freizeit bis Sonntag vertreiben und bieten den aufgeplusterten Event-LAN-Partys die Stirn. Weil im Grunde was anderes zählt. Wer zur Gruppe hinzustoßen möchte, ist gerne willkommen. Er wird sich dort sicherlich wohl fühlen.
Dieser Text wurde auch auf Lancore.at veröffentlicht.
This post is tagged